SHELBY STEWART
I was always intrigued and charmed by products and their brands. The packaging it's cased in and the pretty tags dangling off the clothing. Some can call it materialistic, but I think it's an appreciation for design! I love the idea of how someone can be easily influenced to buy something just because of how well designed the packaging is. This is what inspired me to pursue my career goal of becoming a graphic designer. I love that I am being taught to have ideas and think in an entirely creative way. Design can influence the future, encourage others, and make impactful changes.
Intrinsic
Intrinsic caters to women interested in getting a tattoo but might be too intimidated by the stereo typical tattoo parlors. Tattoo parlors can come off a bit aggressive and masculine. We wanted to change this and design something more welcoming and sophisticated. My group and I designed custom vegan ink bottles, an after-care kit, candles for relaxation, and much more.
In collaboration with
Taylor Kuszyk
,
Aeva Roth
, and
Kira Lorraine
Fashion Mag

This fashion magazine was inspired by the movie, with painfully bad acting but hysterically funny, Austin Powers. Specifically, the Fembots. I had a lot of fun with being in full control of the set design, making the costumes, and doing the models hair and makeup.
Harrison's

I rebranded a local restaurant, Harrison's, in downtown State Collage. This restaurant's pervious menu and branding identity lacked a consistent style. I liked the aspect of the rustic country feeling it was trying to portray, so I decided to emphasize that. I wanted to also elevate the style to be more sophisticated so customers would feel like they are enjoying quality food without spending too much money.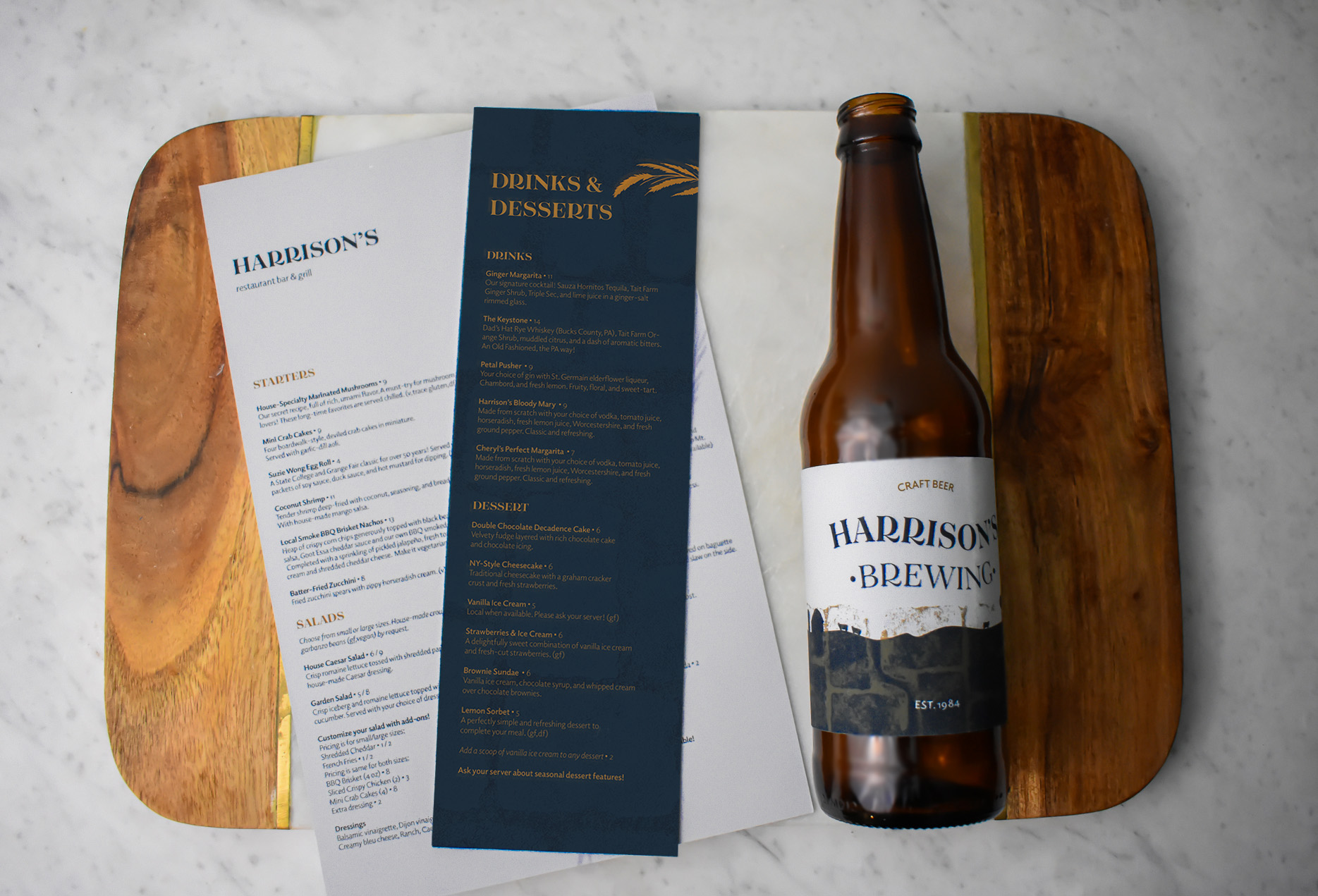 When hearing the exciting news of being accepted into the major after portfolio review, I was enthralled. The anticipation was over! However, Covid had other plans. Starting our official year of being accepted into the program online was not what I imagined. It wasn't until junior year that I fully got to know my classmates. I enjoy having a small class, you get to know everyone on a personal level. I really do enjoy the energy and environment working in studio, whether we're laughing or stressing over a project.