RACHEL SMITH
Hiya, my name is Rachel! I'm currently a senior in Penn State's graphic design program. Some of my proudest accomplishments are managing to keep my five succulents alive, making a banging grilled cheese sandwich, and wearing an absurd amount of jewelry at any given time. (Oh, and I like to design stuff.) I believe that everything in the world can be designed, and these designs can make the world a cooler place. I'm always willing to try a new approach and get my hands dirty, and I've got a special interest in identity design and experience design.
Scoob Magazine

'Scoob Magazine' is a couture fashion magazine loosely based on the animated cartoon Scooby-Doo Where Are You! All elements were conceptualized and executed by me, including art direction, outfits, sets, photography, typography, layout, and physical craft of the magazine. For the narrative of this magazine, I followed a descendant of Mystery Incorporated, moving into an old, abandoned mansion to open a detective agency. I drew inspiration from the original 1969 cartoon, especially fashion from the late 60s and early 70s. Using these elements, I created a physical mood board. The included spreads are meant to portray the "spookiness" of ghost hunting, while still retaining the fun spirit of the original children's cartoon. Dramatic lighting and sets were used to create an eerie mood, but using warm tones and playful typography created the needed silliness in the spreads.
'Knives Out' Title Sequence

The project's objective was to create a relevant and conceptual title sequence for a film using animated elements, powerful imagery, and storytelling. The film has all the elements of a classic murder mystery, with several surprising—and modern—twists and turns, as well as a wild cast of characters. Therefore, I determined that the title sequence would highlight the mood of a traditional murder mystery by showcasing each character in an old Victorian silhouette, as well as using pieces of photo stills to emulate the classic "ransom note" associated with thrillers and suspense. I also referenced the twists and suspense of the film through the quick movements of the stills and characters, as well as the intense background music. This project finds its success by capturing the suspenseful yet fun mood of a classic murder mystery. By highlighting characteristics of each unique character while staying true to the mood of the genre, the title sequence becomes a thrilling peek at the murder story to come.
'Open Your Mind' Campaign (PSU x LIFEWTR)
Taking place over a 15-week semester, the objective of this project was to create a localized campaign targeting college students on Pennsylvania State University campus. My partner and I chose the bottle "Give U Life" by Yung Baby Tate. It was chosen to connect to students with the tagline "Open Your Mind", encouraging students to be themselves and independent for the first time in their lives. Key visuals were created with bright, vibrant colors made of swirled paint, to represent the energy and drive behind Yung Baby Tate's music. Several deliverables were conceptualized for the campaign, including cooler stickers, out of home billboards, TikTok ads, and an immersive mural experience to take place at Penn State during a football home game weekend.
In collaboration with
Erin Nguyen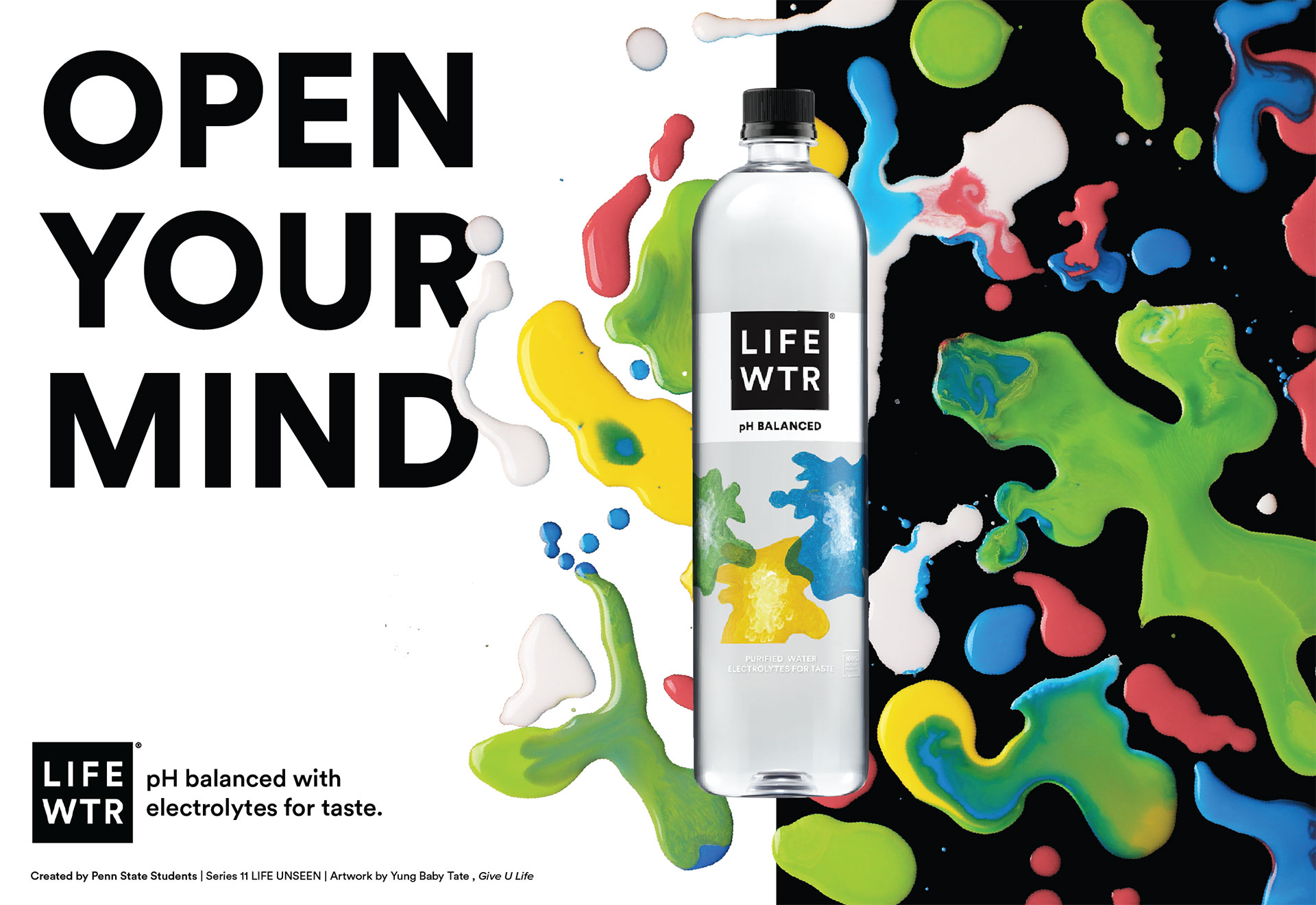 One of my favorite things to do is to take the weirdest photos I can of everyone in the studio. Usually everyone ends up with one (we pull a lot of late nights and weird hours), but some of my favorites include (in no particular order):
Aeva
in a spaceship,
Taylor G
. in a mask spray-painting a project, William head-down on a table mid-craft,
Erin
bundled up in a pile of blankets, and me stuck in a plastic bin at 1am.
One of my favorite memories with
Aeva
was being partnered together for our Experimental Portrait junior year. We'd been on projects together before, but I felt like I really got to know her and bond in a way that we hadn't before while trying to take weirder and weirder photos. It was fun!
I have really fond memories of working on the Evanisko Moving Posters with
Taylor
. We had so much fun! At one point, we were covering a piece of plexiglass with baby powder and drawing letters in it on the ground in studio—it was so odd, but we were laughing and joking the entire time.
When we started the restaurant rebranding project, people got assigned to random restaurants to theoretically rebrand.
Taylor K
,
Aeva
,
Jane
, and I got assigned to India Pavilion. That same day, we all trooped downtown to try it. We got there as it opened, and we were basically the only ones there, but we all had so much fun trying a new place together and bonding! Plus, the food was amazing.
One of my favorite memories from junior year was us all staying late to finish our magazine projects. As stressful and un-fun as it is to pull all-nighters, there's something about everyone staying late and stressing out about craft together that really bonds people. We all gave each other tips and tricks about craft, shared band-aids, and went to Panera a LOT. It was nice, even if it was stressful.
I had a lot of fun with
Erin
while working on our project for LIFEWTR. At one point, we were in the studio at like 8pm, recording ourselves flinging paint at a black piece of cardstock. We were trying to stay off camera and use enough force for the paint to reach the canvas, while desperately trying to keep our sneakers and clothes paint-free. We didn't use that recording for our final take, but we couldn't stop laughing, and BOY was it fun.